City Centre Maps – covering nine major UK cities at Postcode Sector level
The Map Marketing City Sector Map series combines highly detailed street level mapping with the first part of the postcode and the first number of the second part, or Inward Code.
Ideal for detailed planning of delivery routes or catchment areas, the City postcode Sector Maps include all of the postcode changes from the most recent Royal Mail postcode Update. There are two sheets in the series covering London using the Collins Bartholomew street map base in greyscale. Out of London, cities are covered by Ordnance Survey street mapping that has been specially coloured to highlight the postcodes. On all maps the postcode Area, District and Sector boundaries and names appear prominently in red.
CUSTOMISED POSTCODE MAPS
Can't find what you're looking for? Our custom mapping department can create affordable, unique site-centred maps covering just the area you need. Choose from a wide range of map styles, scales, data overlays and finishing options. Click here for more information or get a customised map quote.
Get a quote
Regional Road Map Range
How Sector Postcodes Work
Postcode Sectors (9,000 in total) which are denoted by the first number of the second part of the Postcode. This half of the Postcode is called the Inward Code.
Example: SW6 3
Sector Map Detail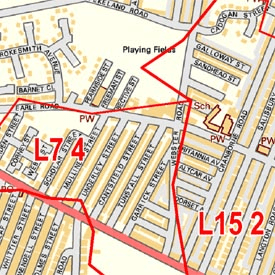 Sheet Details
Scale: London S8 1:60 000 and S37 1:15 000, all other maps at 1:10 000
Postcode Sector City Key Map