Postcodes Explained
Developed originally by The Royal Mail to enhance and streamline postal delivery, Postcodes and Postcode geography have evolved to form an integral part of business planning as an established reference point throughout the United Kingdom. The applications are infinite and effectiveness relies on current Postcode boundaries data. At Map Marketing, the digital print technology we use to produce our Postcode maps ensures our products are kept right up to date with The Royal Mail boundary release information.
Postcode Boundaries
By adding postcode boundary information to your chosen map base you can transform a simple map into a crucial planning tool. We can overlay postcode boundary information at Area, District or Sector level detail onto your map for no extra cost. See a comprehensive breakdown of how the postcode system works and how you can use it to for your business below.
How Postcodes Work
The Postcode is a group of between 5 and 7 letters and numbers that identify a group of houses or addresses. The Postcode has two parts, an Outward and Inward code, separated by a space. Each full Postcode contains an average of 15 delivery points and each postal delivery takes place in two stages. When a letter is collected it is routed to a main sorting office identified within the first part of the Postcode, the Outward Code. The local sorting office uses the second part of the Postcode, the Inward Code, to direct a letter right down to the individual Postman's walk. Postcodes operate at four levels. Take, for example, the Postcode SW6 3AZ
Area Postcodes - Level 1
The country is divided 124 Areas denoted by the first two letters of the Outward half of the Postcode. The average number of delivery points within each Area is 183,000.
Example: SW
Level 1: Area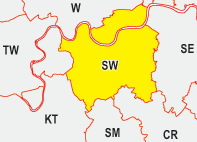 District Postcodes - Level 2
Each Area is subdivided into District Postcodes. The District is denoted by the number or numbers that complete the first half of the Postcode (or Outward Code). There are just over 2,900 Postcode Districts, an average of 21 Districts within each Area, and the average number of delivery points within each District is 8,200.
Example: SW6
Level 2: District
Sector Postcodes - Level 3
Each District is further segmented down into Sectors (9,000 in total) which are denoted by the first number of the second part of the Postcode. This half of the Postcode is called the Inward Code.
Example: SW6 3
Level 3: Sector
Unit Postcodes - Level 4: (Not Illustrated)
The fourth and final level of the Postcode pinpoints a group of houses or addresses. Some organisations are allocated a unique Postcode to ensure the segregation of large deliveries of mail to a single address. If an organisation receives, on average, fifty or more items of mail a day, then a large user Postcode may be allocated.
Example: SW6 3AZ
Why Postcodes Change
There are times when it becomes necessary for Royal Mail to make changes to postal addresses on a large scale. There are a number of reasons these changes are undertaken. For example, new building developments, both residential and business (e.g. housing estates and business parks within an already densely populated area), may lead to Postcode exhaustion thereby leaving no free Postcodes to allocate. Because of the geographical nature of the Postcode system it is necessary to consider the wider area and allocate new Postcode segmentation.
Royal Mail is committed to a policy of no change wherever possible. Postcode changes are only made if it results in a major benefit to the service they provide and new Postcodes work in tandem with the old ones for an overlapping 12-month period.
The Royal Mail announces changes to Postcodes approximately every six months and these changes are notified to all customers in the affected areas via their Postcode Update publications. If you would like to receive notification of future Postcode changes then simply register for our free update service.
Royal Mail Postcode Update
Published every six months, the Update outlines in detail all the Postcode changes the Royal Mail has introduced. You can review the current Postcode Update along with those published during the past few years by going to Royal Mail's website.
If you would like Map Marketing to advise you when new editions of Postcode Update are published then simply register your interest. When Postcode Update is released (twice each year), we will e-mail you a notification containing a hypertext link direct to the new Postcode Update on the Royal Mail's website.