Postcode District Maps - Six maps covering Great Britain
This District map presents the complete first half of the Postcode (or Outward Code) and is one of six pre-defined sheets that covers Britain at a scale of an inch to 5 miles. The District maps include all of the Postcode changes from the most recent Royal Mail Postcode Update. The Area and District boundaries appear prominently in red with County and Unitary Authority boundaries displayed in purple. The map base shows motorways, primary and 'A' and 'B' roads and features conurbation shapes highlighting major towns and cities. Some District sheets also contain large scale city plans within the sheet's catchment area.
CUSTOMISED POSTCODE MAPS
Can't find what you're looking for? Our custom mapping department can create affordable, unique site-centred maps covering just the area you need. Choose from a wide range of map styles, scales, data overlays and finishing options. Click here for more information or get a customised map quote.
Get a quote
POSTCODE DISTRICT MAP RANGE
HOW DISTRICT POSTCODES WORK
The District is denoted by the number or numbers that complete the first half of the Postcode (or Outward Code). There are just over 2,900 Postcode Districts, an average of 21 Districts within in each Area, and the average number of delivery points within each District is 8,200.
Example: SW6
District Map Detail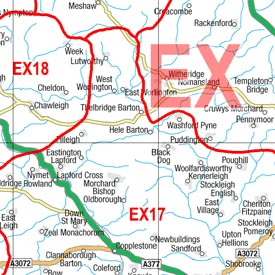 Sheet Details
Size 73 x 107 cm (29 x 42 inches)
Scale 1:150 000 (2.4 miles to 1 inch)*
*Except maps 8, 36 and 37.
Click the sheet number on the key map to view each map
POSTCODE DISTRICT KEY MAP